New Library Catalog Coming Soon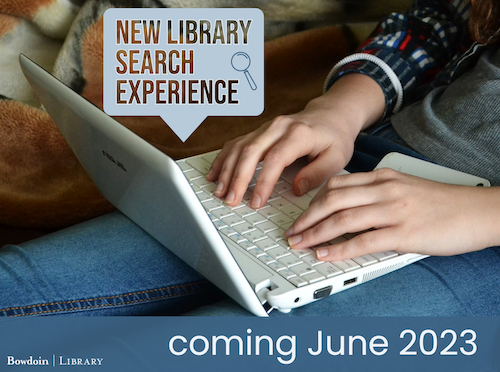 We are excited to announce that at the end of the spring semester, Bowdoin, Colby, and Bates will retire the system that is currently used to manage all library operations, including CBBcat, and will transition to a cloud-based, next generation library services platform (LSP), Alma/Primo. The new library catalog, which will launch in mid-June, will provide a more intuitive and responsive search and browse user experience, with integrated access to our print, electronic, and digital materials. With this migration, we will join many leading academic libraries that have previously implemented the Alma/Primo system including Princeton, Harvard, Dartmouth, Middlebury, Williams, and the Tri-Co Consortium (Bryn Mawr, Haverford, and Swarthmore).
Temporary Service Modifications
To prepare for the migration of all of the library's processes and data to the new system, we will need to modify several collection-related services temporarily:
Ordering of New Materials - March 15th, last day orders will be placed

An ordering hiatus will be placed on most new materials. Purchase requests will be held until the new system is live. Exceptions will be made, and orders placed immediately, to meet time-sensitive needs, including for fall course preparation or summer programs.

MaineCat Loans - April 28th, last day to borrow

Bates and Colby Loans and Bowdoin Takeout Service - May 20th, last day to borrow

Borrowing of materials from our Maine partners and requesting materials from the Bowdoin collection through our Library Takeout service will be reinstated after our anticipated launch date of June 14th. Interlibrary Loan will continue to be available throughout the transition period.
Opportunities to Preview and Test Drive the Catalog
Faculty and staff are invited to attend a lunchtime introduction to the catalog, with lunch on the library in Thorne's Pinette Dining Room (sign in at the check-in station)
Monday, April 24th   12:30-2pm
Tuesday, May 2nd   12-1:30pm
Friday, May 5th   12:30-2pm
Additional workshops will be scheduled, and support will be available throughout the summer.
The library appreciates your understanding and flexibility. If you have questions, please contact Marjorie Hassen.