News and Events
Media Commons Open House
Come learn about the new 25-seat
telepresence room.
Tuesday, April 4, 4-5pm
Bowdoin Reads
Faculty Stories
How do faculty use the Library for teaching and research? Find out!
Ramp Gallery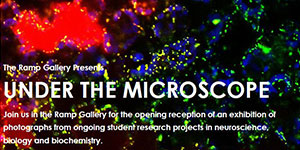 Join us in the Ramp Gallery for Under the Microscope, an exhibition of photographs from ongoing student research projects
Citation Workshops
Come to one of these workshops to learn the who, what, where, why, when, and how of acknowledging your sources.