Faculty Spaces
The Library offers several options for faculty and staff members seeking quiet work space.
Faculty Research Room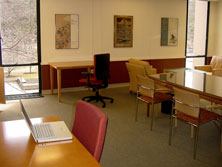 A room is designated in the H-L Library for exclusive use by faculty and staff members who desire a quiet, comfortable space in which to work. You are invited to use one of the five individual study desks, the larger consulting table with seating for four, or two easy chairs for reading, researching or simply as a home base while visiting the library. The room, located on the second floor to the north of the Pierce Reading Room, is equipped with open bookshelves and lockers with keys for stowing coats, books, laptops or personal items when they are not in use. We ask you to clear off workspaces at the end of each visit to the room. The room features wireless and wired network connection for laptop use. You may check out a swipe card for access at the H-L circulation desk, or if you believe that you will make regular use of the space, we would be glad to program your ID card for easy room access. Please contact the Library Administrative Coordinator at 725-3155 to make these arrangements.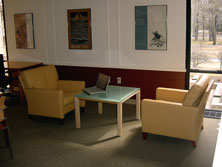 Faculty Library Carrels (annual or short-term assignments)
Faculty may apply for one of the 21 library studies in H-L or five in the Hatch Science Library for exclusive use for one year. The small studies can, through your academic coordinator, have access to both phone and wired network services. Wireless access is available throughout the libraries.
Each year, at the beginning of the new academic year, the Library will solicit requests for studies via email. Faculty are asked to review the Library Committee's criteria for assigning studies listed below and write a brief description of how their request matches these criteria to Michelle McDonough for a study in H-L Library and Sue O'Dell for a study in Hatch Library. Those requests which most closely match the criteria will be filled. Please contact Judy at any time during the year for information on study availability.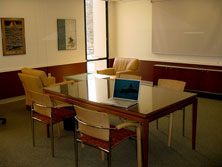 Two faculty library studies in H-L are reserved for open assignment. This means if you have a book gallery or a grant proposal or any type of short-term project, you will be able to reserve these studies for a few hours, days, weeks or months at a time on a first come, first served basis. Contact Michelle McDonough.
Criteria for Assigning Library Faculty Studies in Hawthorne-Longfellow and Hatch
Criteria are listed in priority order:
Junior faculty needing library resources or space to complete dissertations.
Faculty who must vacate their regular offices due to leaves or building renovations.
Faculty doing serious research using library collections.
Other faculty requesting studies.
Regular adjunct faculty with special needs who are not assigned offices.