Class Instruction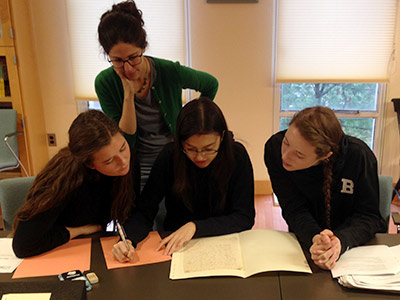 Grounded in the Bowdoin College Library Research and Instruction Services learning outcomes and informed by the Primary Source Literacy Guidelines, the education program of Special Collections & Archives emphasizes active learning for information, archival, and visual literacy.
There are myriad ways to integrate special collections materials into a classroom experience, whether exploring examples of printmaking techniques, transcribing nineteenth century correspondence to use as mapping data, or investigating the dissemination of a work of literature through the ages: we are excited to collaborate to support the intersection of distinctive materials and intentional pedagogy.
We work with faculty across all disciplines to meet a wide variety of learning goals and support teaching with our unique materials. Our emphasis on active learning places the student at the center of our instruction design, providing the opportunity to engage in hands-on learning to build transferable skills that directly promote students' academic growth and development.
Read more about course-related collaborations:
Parts of Campus Bring a Light to Wabanaki History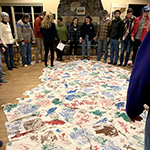 Maine's Wabanaki tribes and allies are shifting the way people in the state, including at Bowdoin, are engaging with the state's colonial history and the injustices inflicted on its indigenous population.
No White Gloves: College Archives Give Students Hands-on History, Including the History of Race at Bowdoin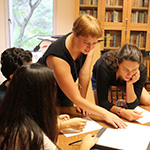 Librarian Marieke Van Der Steenhoven recently assembled a selection of memos, photographs, pamphlets and other material about the history of African American students at Bowdoin.
Digital Tools Open Up Bowdoin's Past to Students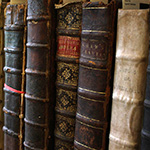 The following story explores the ways in which Bowdoin students, staff, and faculty are using digital technology to analyze old texts and objects.
Students Learn Art of Curating as They Research Photography Exhibit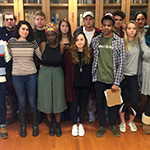 The sixteen students who took assistant professor Dana Byrd's fall art history class received a new kind of learning experience.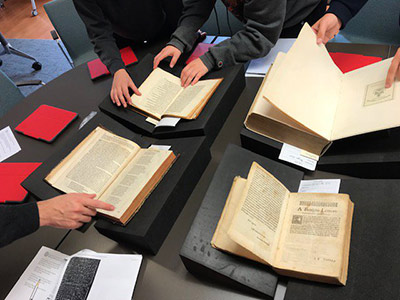 Special Collections & Archives supports a wide variety of teaching and learning experiences and we are always excited to assist in developing creative and innovative ways to use the collections.
Here are some of the ways Bowdoin faculty are integrating special collections into teaching:
Single class session with no subsequent assignment
Offers students general familiarity with SC&A materials and procedures; experience handling rare and fragile items; experience examining, interrogating, and interpreting documents
Single class session with single assignment (requires student return visit(s) to SC&A)
Offers students greater understanding of SC&A collections; experience interpreting materials and confronting challenges like handwritten documents and incomplete documentation; introduces students to the archival research process
Multiple class sessions with multiple assignments (requires student return visits to SC&A)
Offers students deep understanding of SC&A holdings; ability to examine and interpret primary sources complemented by secondary sources; allows students to undertake archival research and learn about primary research methodology through first-hand experience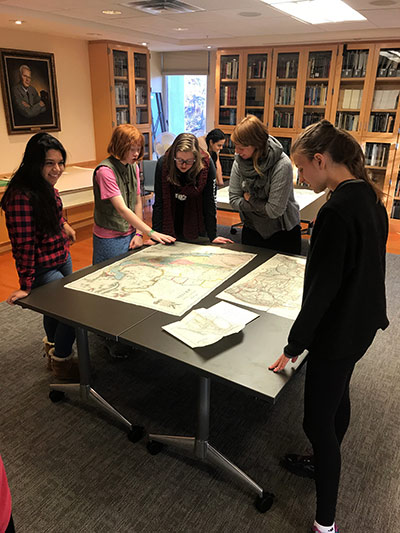 Special Collections & Archives Reading Room – accommodates 8 people total. No technology available.
Nixon Lounge – accommodates 18 people maximum (16 is recommended). Standard classroom technology (projector, miniMac, audio) plus document camera available.
We are also happy to discuss ways to accommodate classes of 18 students or more.
To discuss learning goals, relevant SC&A holdings, and to schedule class session(s) please contact Special Collections Education and Outreach Librarian Marieke Van Der Steenhoven.
Due to space limitations we kindly request at least three weeks' notice whenever possible.
Guidelines for Primary Source Literacy (Developed by the SAA-ACRL/RBMS Joint Task Force on the Development of Guidelines for Primary Source Literacy, approved 2018).
These guidelines articulate the range of knowledge, skills, and abilities required to effectively use primary sources. While the primary audience for this document is librarians, archivists, teaching faculty, and others working with college and university students, the guidelines have been written to be sufficiently flexible for use in K-12 and in general public settings as well. The guidelines articulate crucial skills for navigating the complexity of primary sources and codify best practices for utilizing these materials.
Anne Bahde, Heather Smedberg, and Mattie Taormina's Using Primary Sources: Hands-on Instructional Exercises (Santa Barbara, CA: Libraries Unlimited, 2014).
Provides examples of active learning exercises with primary sources held in special collections, archives, and museums, focused on the one-shot session. The exercises include introductory sessions on primary source analysis and the research process, as well as more advanced sessions on building analytical skills, contextualizing and synthesizing sources, interpreting finding aids, and interrogating a source's physicality.
Eleanor Mitchell, Peggy Seiden, and Suzy Taraba's Past or Portal? Enhancing Undergraduate Learning through Special Collections and Archives (Chicago: Association of College and Research Libraries, a division of the American Library Association, 2012).
A collection of case studies that focuses specifically on undergraduate students and highlights a wide variety of instructional models that provide important guides for teaching with primary sources, from one-shot sessions to longer programmatic interventions.
Christopher J. Prom and Lisa Janicke Hinchcliffe's Teaching with Primary Sources (Chicago: Society of American Archivists, 2016).
Teaching with Primary Sources describes the development of primary source literacy, but also offers practical, hands-on ideas to integrate primary source literacy into curricula.
Teach Archives.Org
Based on an award-winning project at Brooklyn Historical Society, TeachArchives.org shares articles and sample lessons plans for effectively integrating active learning and primary source material into your curriculum.
Kelli Hansen's "Collaborating with Your Special Collections Librarian" on the Pedagogy & American Literary Studies blog (October 10, 2016).
Tips and examples of assignments for incorporating library collections into courses and best practices for collaborating with librarians.
Tala Khanmalek's "Teaching Students How to Use Archival Sources" on Ideas on Fire blog (February 19, 2019).
Reasons why teaching with archival sources is beneficial to students across the disciplines and interdisciplines as well as some pedagogical tips on how to do it well.