Class Instruction
The instruction program of Special Collections & Archives emphasizes active learning for information, archival, and visual literacy.
Whether exploring examples of printmaking techniques, transcribing nineteenth century correspondence to use as mapping data, or investigating the dissemination of a work of literature through the ages, there are a myriad of ways to integrate special collections materials into a classroom experience.
We work with faculty across all disciplines to meet a wide variety of learning goals and support teaching with our unique materials. Our emphasis on active learning places the student at the center of our instruction design, providing the opportunity to engage in hands-on learning to build transferable skills that directly promote students' academic growth and development.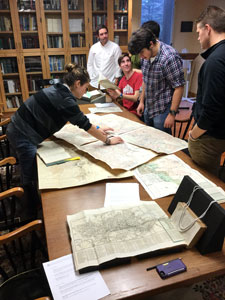 Special Collections & Archives supports a wide variety of teaching and learning experiences and we are always excited to assist in developing creative and innovative ways to use the collections.
Here are some of the ways Bowdoin faculty are integrating special collections into teaching:
Single class session with no subsequent assignment
Offers students general familiarity with SC&A materials and procedures; experience handling rare and fragile items; experience examining, interrogating, and interpreting documents
Single class session with single assignment (requires student return visit(s) to SC&A)
Offers students greater understanding of SC&A collections; experience interpreting materials and confronting challenges like handwritten documents and incomplete documentation; introduces students to the archival research process
Multiple class sessions with multiple assignments (requires student return visits to SC&A)
Offers students deep understanding of SC&A holdings; ability to examine and interpret primary sources complemented by secondary sources; allows students to undertake archival research and learn about primary research methodology through first-hand experience
Special Collections & Archives Reading Room – accommodates 8 people total
No technology available.
Nixon Lounge – accommodates 18 people maximum (16 is recommended) 
Standard classroom technology (projector, miniMac, audio) plus document camera available.
Chandler Room – accommodates 16 people maximum (8-12 is recommended) 
Computer with projector and whiteboard available.
We are also happy to discuss ways to accommodate classes of 18 students or more.
To discuss relevant SC&A holdings for your course and to schedule class session(s) please contact Special Collections Education and Outreach Librarian Marieke Van Der Steenhoven.
Due to space limitations we kindly request two weeks' notice whenever possible.
Teach Archives.org
Based on an award-winning project at Brooklyn Historical Society, TeachArchives.org shares articles and sample lessons plans for effectively integrating active learning and primary source material into your curriculum.